Emblazoned into popular culture by Heidi, Switzerland's most famous orphan, no garment is more quintessential of Bavaria and its near neighbours than the Dirndl. But Gertrud Pesendorfer, commissioned to popularise this nostalgic dress during the era of National Socialism, would be shocked to see its latest incarnation: the stunning Dirndl á l'Africaine, sewn from richly coloured African fabrics by designer label NOH NEE, the brain-child of two entrepreneur sisters, migrants who arrived in Munich from Cameroon.

CRAFTY TACTICS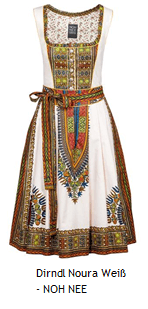 It is exactly this kind of spirit that Munich Chamber of Crafts, which recently held an exhibition featuring NOH NEE's work, is labouring to encourage. A survey conducted by the chamber discovered that 45% of skilled craft firms currently have vacancies they are trying to fill. Visiting Munich during a study visit as part of CITIES GROW, representatives of the city of Athens heard how the Chamber of Crafts is dealing with the lack of young people interested in becoming craftsmen and women: facilitating internships through which migrants and even refugees can be prepared for a career in craft.
This strategy of creating a win-win scenario out of migration, assisting integration by pairing people eager to work together with industries short on labour, is exactly the kind of approach CITIES GROW aims to foster throughout Europe. Of course, crafts and fashion represent just one area of many where Munich is taking the initiative to strengthen its labour force with migrant workers.
TRAINING AND SKILLS RECOGNITION
The project Fluque helps migrants enter training and jobs as electricians, REWE provides free language lessons to help ease migrants into the job market, the SchlaU-Schule gets refugees under 21 years old familiar with the core Bavarian school curriculum and helps them enter mainstream education, and the social cooperative Bellevue di Monaco provides training and as well as hosting cultural events, while the grassroots initiative Stay Welcome is a network of companies that puts refugees and employers in direct contact with each other. Even refugees with little prospect of remaining have access to some training financed by European social funds. The municipality facilitates some of these initiatives by providing finances, services, or even buildings to operate from.
Just as important as training, however, is recognising the skills that migrants already come equipped with. Organisations like the municipal job centre help get foreign degrees approved so that migrant workers can gain the necessary certification to practice their skills in Germany.Munich has been gaining experience with migrants since the 90's, when there was a major influx from the Balkan region, but despite having implemented plenty of programmes between then and now, it was only in 2016 that the mayor made the decision to synthesise and direct these with a master plan.
MASTER PLAN
This master plan treats refugees as citizens of the city from day one, taking immediate steps to support their integration. One of the many advantages of this plan is that it has facilitated cooperation between different departments of the local government such as the department of city planning and that of social affairs.
A crucial step which is currently being developed is a set of indicators that the city can use to measure its levels of integration, and thus its progress on this front year to year. The city is even joining an app called 'integreat' , which will allow refugees to access integration information via smartphone!
TAKING THE LESSONS TO ATHENS
After the three-day CITIES GROW study visit during which Athens gained fist hand knowledge of the way that Munich is managing to create symbiosis with its migrant population, the Athenian delegation took a moment to consider how this approach could be adapted to their own context. For them, the most important first steps are setting up programmes to rapidly enable new arrivals to learn Greek, and creating a network of large companies interested in working together with migrants to strengthen their labour force. The trip to Munich also made it clear to the representatives of Athens how important it is for the efficacy of any future projects to get good data on their migrant demographics.
Who knows, the day may be approaching when the shop windows of Athens are filled with the first fashion line of Greek Fustanellas woven from a colourful Ghanaian Kente cloth!